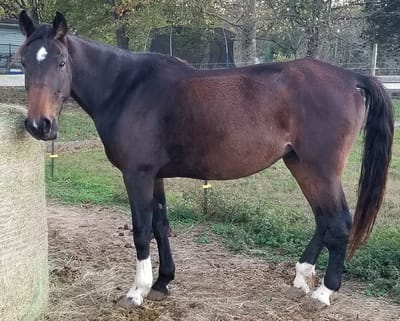 Finding Forever Horse Sponsors are as committed to our residents as we are. They have made the financial commitment to help one of our wonderful residents. Our sanctuary horses never leave the farm and remain with us until their passing. Some only stay a short time while others are with us for many years. During their time with us they receive 365/24/7 access to hay, shelter and water. They also receive medical and farrier treatment along with daily feedings. All of this support to our over 30 horses and ponies comes at a cost. We feed out 2 tons of grain a week and 4 tons of hay a week, so you can see how the expenses add up quickly.
To become a sponsor, choose the horse(s) you would like to sponsor from
our residents page
, email us with your chosen horse and sponsorship level and make your
tax-deductible donation
, and we'll do the rest. *Horses may have more than one sponsor.
Thanks to your recurring donation, we are able to continue to provide the best quality care for these horses. It is the generosity of individuals such as yourself who give meaning to the lives of so many horses and the care that they deserve. We could not do this without you!
SPONSORSHIP LEVELSPlatinum
$1200 ($100 month)
My Own Horse!
certificate of recognition
photo of horse
story of horse
thank you posted on social media and website
4 visits (by appointment) a year
Gold
$600 ($50 month)
certificate of recognition
photo of horse
story of horse
thank you posted on social media and website
2 visits (by appointment) a year
Silver
$300 ($25 month)
certificate of recognition
photo of horse
story of horse
thank you posted on social media and website
Bronze
$150 ($12.50 month)
certificate of recognition
photo of horse
story of horse