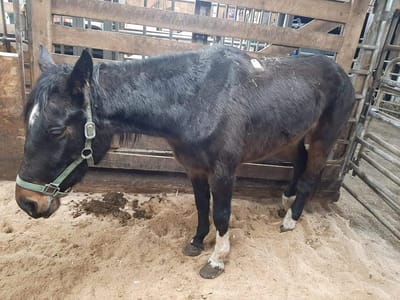 RESCUE
We help horses that need it the most. Even if it means we never get to meet them. They all deserve a dignified ending.

Travellers Rest Farm Sanctuary accepts any horse (space permitting) from any source, and does not discriminate against horses coming from any background. We actively pull horses from kill pens, and accept "free to good home" and owner surrender horses. In the event a horse needs help we do everything in our power to give it a soft landing. Sometimes that means placing them in foster homes. Horses placed in those homes are done so only after homes have been carefully screened and a lifetime agreement has been signed; we check on them regularly. Horses that reside at the farm remain until their passing.

RETIRE
To those horses that have served their humans until their bodies no longer can hold up; we offer a quiet retirement.

Many horses come to us in poor shape after their "usefulness" to their former owners has been completed. We believe their "usefulness" never ends. Horses are amazing animals gifted with abilities we can't even understand. To us they just need to "be". We don't ask anything of them but they give of themselves nonetheless. They are healers while healing themselves. Giving them a quiet retirement is the least we can do for all they give of themselves.

SANCTUARY
All our horses are given permanent sanctuary. They are family and remain with us until their passing.

Travellers Rest Farm Sanctuary is a "sanctuary" to all that reside there. We not only give sanctuary to horses, but to any animal that comes our way. We currently house goats, geese, ducks, rabbits, and a sheep.